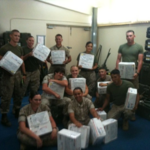 PLEASE NOTE:   Postal regulations do not allow us to ship perishable foods, food with pork as an ingredient or items in glass containers or aerosol cans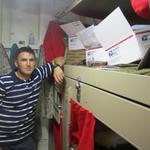 THANK YOU FOR YOUR SUPPORTING OUR TROOPS!!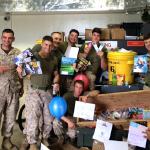 WHAT WE DO NEED

Christmas fun - little gifts - wrap them up!!

Guy magazines about cars, sports, funs, motorcycles

Protein bars

Vienna sausage

Cans & foil pouches of tuna

Instant hot chocolate

Jerky!!!!

Peanut butter

Instant or single coffee pouches

Trail mix

Instant Oatmeal

Water flavoring singles (crystal light, etc.)

Socks - calf height - black or white

T Shirts - white, army green or brown - variety of sizes

Toiletries - travel size soaps, shampoo, shaving gear, foot powder, toothpaste,  tooth brushes, floss

3M Mailing tape - clear & wide

WHAT WE DON'T NEED

Tea bags

Granola bars

Top ramen

Cup of soup

Chocolate or candy

Gum

Mints

Books

Popcorn