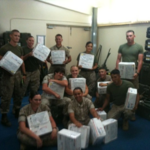 PLEASE NOTE:   Postal regulations do not allow us to ship perishable foods, food with pork as an ingredient or items in glass containers or aerosol cans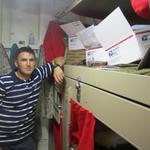 THANK YOU FOR YOUR SUPPORTING OUR TROOPS!!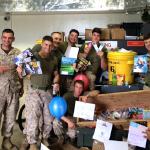 WHAT WE DO NEED:                                WE DO NOT NEED:

FOOD ITEMS                                                   Protein or granola bars

Beef Jerky, Slim Jims                                                       Peanut Butter

Sausage rolls (no refrigeration)                                         Tuna, oysters, sardines

Cheese packs (no refrigeration type)                                 Hot chocolate

Nuts, sunflower seeds                                                      Tea Bags

Powder drink mix for water bottles (crystal light, etc.)         Popcorn

Instant coffee packs                                                         Candy

Energy Shots                                                                   Toiletries (tooth brushes, toothpaste, shampoo)

Trail mix                                                                          DVDs

Dried fruit                                                                        Books    

Gums, altoids, tic tacs                                                      Magazines

Salt & Pepper packets

COMFORT ITEMS:                                           

Dental floss                                                         

Baby wipes                                                             

Chapstick                                                            

Sunscreen                                                             

Bug repellent                                                        

Foot powder                                                           

Tylenol, motrin                                                      

Eye drops                                                               

Cough drops                                                           

Hand Sanitizer                                                        

Full length cotton socks (black or white)                   

Undershirt (prefer tan,  green or brown) 

Wash cloths

ENTERTAINMENT

Crossword puzzles

Soduko books

Small size games

Dice, cards

Hacky sack, balls

If you are not able to attend the pack out but would like to contribute, please email www.pmfsgca@gmail for information

...the purpose of this email is to extend a profound and sincere thanks and a heartfelt sense of gratitude to all of you for your very kind and selfless gesture.  We recently received upwards of 15 chockfull care packages, carefully and affectionately filled with some of the most thoughtful items I have seen in countless deployments  From the satiable trail mix and Easter candy, to the warm socks, t-shirts, and hand warmers, all were super well received by everyone in the detachment.  Thank you for everything you guys do to keep the morale of deployed troops as high as it can possibly be when away from family. Your packages certainly make it easier to deal with and lend themselves to bring huge smiles to everyone that receives one.  Please continue to do what you do and trust that your work is extremely uplifting.

Double click here to add text.