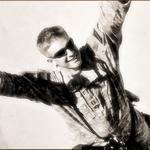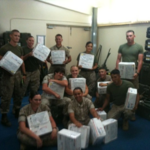 PLEASE NOTE:   Postal regulations do not allow us to ship perishable foods, food with pork as an ingredient or items in glass containers or aerosol cans 

We need:

Calf height cotton socks   (white or black)

Dark T-shirts (green, brown)

Candy - all kinds 

Gum

Hot cereals (Oatmeal)

Beef jerky

Tuna packets

Vienna sausages, etc.

Ground coffee

Peanuts, Cornnuts

Dried fruit (raisins, apricots, etc.)

Fun Things - Spring, Easter theme

Dominoes

Sudokus

Crossword books

Playing Cards

Clear postage tape (available at Costco)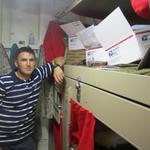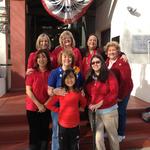 "I wanted to write and say thank you from the bottom of my heart. I have received a bunch of care packages out here in Afghanistan from your organization. I can assure you that my guys and I all are putting it all to good use. What people like yourselves do on a daily basis to support the troops will never be forgotten. It is the support we need out here in this environment during the holidays. Once again thank you, I can't say it enough."

                                                                                                      ***

"First off I would like to thank everyone who participated in the donations of everything that I received in all the care packages I've received throughout the time I've been here in Japan. I would also like to thank all the children for the beautiful heart warming christmas cards. I'm doing great and having a wonderful time here in Okinawa and all the care packages are making it a whole lot better, not just for my brothers in arms who are here with me and going the same problems as me. Thank you for keeping smiles on our faces and reminding us what we're fighting for. "

We do not need:

No more soup,  cup of noodles or ramen

No more granola or protein bars

No more tea

No more crystal light or water flavorings

No more Red Bull

No more books, magazines or DVDs

No more toiletries

No more female mini/maxi pads

THANK YOU FOR YOUR SUPPORTING OUR TROOPS!!

Thanks to the generous donations from  some local vendors, we have enough for our next pack out of these items.: